Educational Activities in the Context of the Realities of the Information Society: Problems, Pro-spects
Keywords:
information society, informatization, educational space, ICT technologies, educational environment
Abstract
The study aims to analyze key trends in the informatization of the educational space and assess further prospects for its functioning in the context of the development of the information society.
The research is based on systematic and comparative analysis and
The process of informatization of education in the context of global processes makes it possible to form a particular online (digital) educational space that eliminates national and territorial differences between states, thereby providing open and fast access to innovative educational resources from all over the world.
ICT educational resources provide an opportunity to address two of the most pressing challenges: to ensure continuity between all levels of education; to gradually address the "gaps" in digital literacy between the young and old generations, thereby realizing one of the essential values recognized by UNESCO - inclusive and continuing education/education throughout life.
Downloads
Download data is not yet available.
References
Berman, N. D. (2017). On the issue of digital literacy. Modern Research of Social Problems, 8(6-2), 35-38.
Berry, B. (2019). Teacher leadership: Prospects and promises. Phi Delta Kappan, 100(7), 49-55. https://doi.org/10.1177/0031721719841339
Bilousova, L. I. (2016). Visualization of educational material using scribing technology in the professional activity of a teacher. Physical and Mathematical Education, 1(7), 39-47.
Borovoi, L., & Vlaev, I. (2015). Social informatics in education: Societal cultures versus educational technologies. Bulletin of Science, Technology & Society, 35(5-6), 178-186.
Burnett, C., Parry, B., Merchant, G., & Storey, V. (2020). Treading softly in the enchanted forest: exploring the integration of iPads in a participatory theatre education programme. Pedagogies an International Journal, 15(3), 203-220. https://doi.org/10.1080/1554480x.2019.1696199
Campelj, B., Karnet, I., Brodnik, A., Jereb, E., & Rajkovic, U. (2019). A multi-attribute modelling approach to evaluate the efficient implementation of ICT in schools. Central European Journal of Operations Research, 27(3), 851-862. https://doi.org/10.1007/s10100-018-0595-y
Cardoso, P. P. C., Araujo, L. A., & Giroto, C. R. M. (2021). A gestao escolar e a formacao continuada do professor critico-reflexivo na perspectiva do coordenador pedagogico. (School management and the continuing education of the critical-reflective teacher from the perspective of the pedagogical coordinator, in Portuguese). Revista on Line de Politica e Gestao Educacional, 2132-2146. https://doi.org/10.22633/rpge.v25i3.15838
Casillas Martin, S., Cabezas Gonzalez, M., & Garcia Penalvo, F. J. (2020). Digital competence of early childhood education teachers: Attitude, knowledge and use of ICT. European Journal of Teacher Education, 43(2), 210-223. https://doi.org/10.1080/02619768.2019.1681393
Cladis, A. E. (2018). A shifting paradigm: An evaluation of the pervasive effects of digital technologies on language expression, creativity, critical thinking, political discourse, and interactive processes of human communications. E-Learning and Digital Media, 17(5), 341-364. https://doi.org/10.1177/2042753017752583
Corradini, I., Lodi, M., & Nardelli, E. (2017). Conceptions and misconceptions about computational thinking among italian primary school teachers. ICER ë17: International Computing Education Research Conference. ACM. https://doi.org/10.1145/3105726.3106194
Craciun, D., & Bunoiu, M. (2019). Digital comics, a visual method for reinvigorating romanian science education. Revista Romaneasca pentru Educatie Multidimensionala, 11(4), 321-341. https://doi.org/10.18662/rrem/172
de Paula, F. D., & de Miranda, M. C. R. (2021). Educacao e pandem?a: o ens?no fundamental anos f?na?s em um s?stema de ens?no (Education and pandemic: Elementary school final years in an education system, in Portuguese). Revista on line de Politica e Gestao Educacional, 2098-2116.
Fenwick, T., & Edwards, R. (2015). Exploring the impact of digital technologies on professional responsibilities and education. European Educational Research Journal, 15(1), 117-131. https://doi.org/10.1177/1474904115608387
Fleisch, B., Taylor, S., Schoer, V., & Mabogoane, T. (2017). Failing to catch up in reading in the middle years: The findings of the impact evaluation of the reading catch-up programme in South Africa. International Journal of Educational Development, 53, 36-47. https://doi.org/10.1016/j.ijedudev.2016.11.008
Gama, Z. J. (2021). Cursos de formacao de profissionais de educacao mal avaliados e impactos no desempenho estudantil em testes de larga escala (Training courses for poorly evaluated education professionals and impacts on student performance in large-scale tests, in Portuguese). Revista Ibero-Americana de Estudos Em Educacao, 16(4), 2442-2457. https://doi.org/10.21723/riaee.v16i4.13844
Godoi, M. R., Kawashima, L. B., & Moreira, E. C. (2021). Compromisso educacional e social: Trajetorias de professores que desenvolvem projetos sociais esportivos. (Training courses for poorly evaluated education professionals and impacts on student performance in large-scale tests, in Portuguese). Revista Ibero-Americana de Estudos Em Educacao, 16(4), 2488-2507. https://doi.org/10.21723/riaee.v16i4.13910
Gupta, N., & Irwin, J. D. (2016). In-class distractions: The role of Facebook and the primary learning task. Computers in Human Behavior, 55, 1165-1178. https://doi.org/10.1016/j.chb.2014.10.022
Hawkins, I., Ratan, R., Blair, D., & Fordham, J. (2019). The effects of gender role stereotypes in digital learning games on motivation for STEM achievement. Journal of Science Education and Technology, 28(6), 628-637. https://doi.org/10.1007/s10956-019-09792-w
Honcharova, N. (2019). Texnolog?ya dopovnenoø real`nost? v p?druchnikax novogo pokol?nnya (Technology of augmented reality in textbooks of new generation, in Ukrainian). Problemi suchasnogo p?druchnika (Problems of Modern Textbook, in Ukrainian), 22, 46-56. https://doi.org/10.32405/2411-1309-2019-22-46-56
Karnaukhova, A. V., & Samchenko, I. V. (2018). Psychological and pedagogical features of the development of cognitive interests of students in the process of primary school. A Young Scientist, 4(1), 279-283. http://nbuv.gov.ua/UJRN/molv_2018_4%281%29__66
Kumar, S., Martin, F., Budhrani, K., & Ritzhaupt, A. (2019). Award-winning faculty online teaching practices: Elements of award-winning courses. Online Learning, 23(4). https://doi.org/10.24059/olj.v23i4.2077
Lacka, E., & Wong, T. C. (2019). Examining the impact of digital technologies on studentsí higher education outcomes: The case of the virtual learning environment and social media. Studies in Higher Education, 1-14. https://doi.org/10.1080/03075079.2019.1698533
Leschuk, G. V. (2017). Implementation of social initiatives by means of innovative information technologies. Scientific Bulletin of Uzhgorod University. Series: Pedagogy. Social work, 1(40), 146-148.
Lim, Ch., & Kye, B. (2019). Classroom revolution through SMART education in the Republic of Korea: Case study by the UNESCO-Fazheng project on best practices in mobile learning. UNESCO Digital Library. Retrieved from https://unesdoc.unesco.org/ark:/48223/pf0000366729?posInSet=1&queryId=NEXPLORE-be32e487-c93f-46b6-a797-7e2627aafd27
Ma, J. K.-H., Vachon, T. E., & Cheng, S. (2019). National income, political freedom, and investments in R&D and education: A comparative analysis of the second digital divide among 15-year-old students. Social Indicators Research, 144(1), 133-166. https://doi.org/10.1007/s11205-018-2030-0
McGovern, E., Moreira, G., & Luna-Nevarez, C. (2020). An application of virtual reality in education: Can this technology enhance the quality of studentsí learning experience? Journal of Education for Business, 95(7), 490-496. https://doi.org/10.1080/08832323.2019.1703096
McLay, K. F., & Renshaw, P. D. (2019). Making ëusí visible: Using membership categorisation analysis to explore young peopleís accomplishment of collective identity?in?interaction in relation to digital technology. British Educational Research Journal, 46(1), 44-57. https://doi.org/10.1002/berj.3565
Murashchenko, T. V. (2017). Mixed and distance learning as a way to access quality education. Open Educational E-Environment of a Modern University, 3, 283-287.
Nguyen, T.-L. (2019). Enhancing studentsí learning motivation for better academic performance: An empirical case in Dong Nai Province, Vietnam. International Journal of advanced and applied sciences, 6(3), 17-22. https://doi.org/10.21833/ijaas.2019.03.003
Prokopenko, O.V., Kudrina, O., & Omelyanenko, V. (2018). Analysis of ICT application in technology transfer management within industry 4.0 conditions (Education based approach). ICTERI. Retrieved from: https://www.semanticscholar.org/paper/Analysis-of-ICT-Application-in-Technology-Transfer-Prokopenko-Kudrina/6ad6dfcf32cce691743724a7d85899acef7442a4
Selwyn, N., Pangrazio, L., Nemorin, S., & Perrotta, C. (2019). What might the school of 2030 be like? An exercise in social science fiction. Learning, Media and Technology, 45(1), 90-106. https://doi.org/10.1080/17439884.2020.1694944
Song, M. J. (2018). Learning to teach 3D printing in schools: How do teachers in Korea prepare to integrate 3D printing technology into classrooms? Educational Media International, 55(3), 183-198. https://doi.org/10.1080/09523987.2018.1512448
Sysoeva, S. A., & Osadchaya, K. P. (2019). State, technologies and prospects of distance learning in higher education of Ukraine. Information Technologies and Training Tools, 70(2), 271-284.
Timmis, S., & Munoz-Chereau, B. (2022). Under-represented studentsí university trajectories: Building alternative identities and forms of capital through digital improvisations. Teaching in Higher Education, 27(1), 1-17. https://doi.org/10.1080/13562517.2019.1696295
Zolotukhina, S. T., & Yalovega, I. G. (2020). Rules of behavior of subjects of the educational process during an online video conference in the conditions of distance learning. The Uchitel Newspaper, 3-4. Retrieved from http://hnpu.edu.ua/sites/ default/files/files/gazeta_uchitel/2020_03-04_280-281.pdf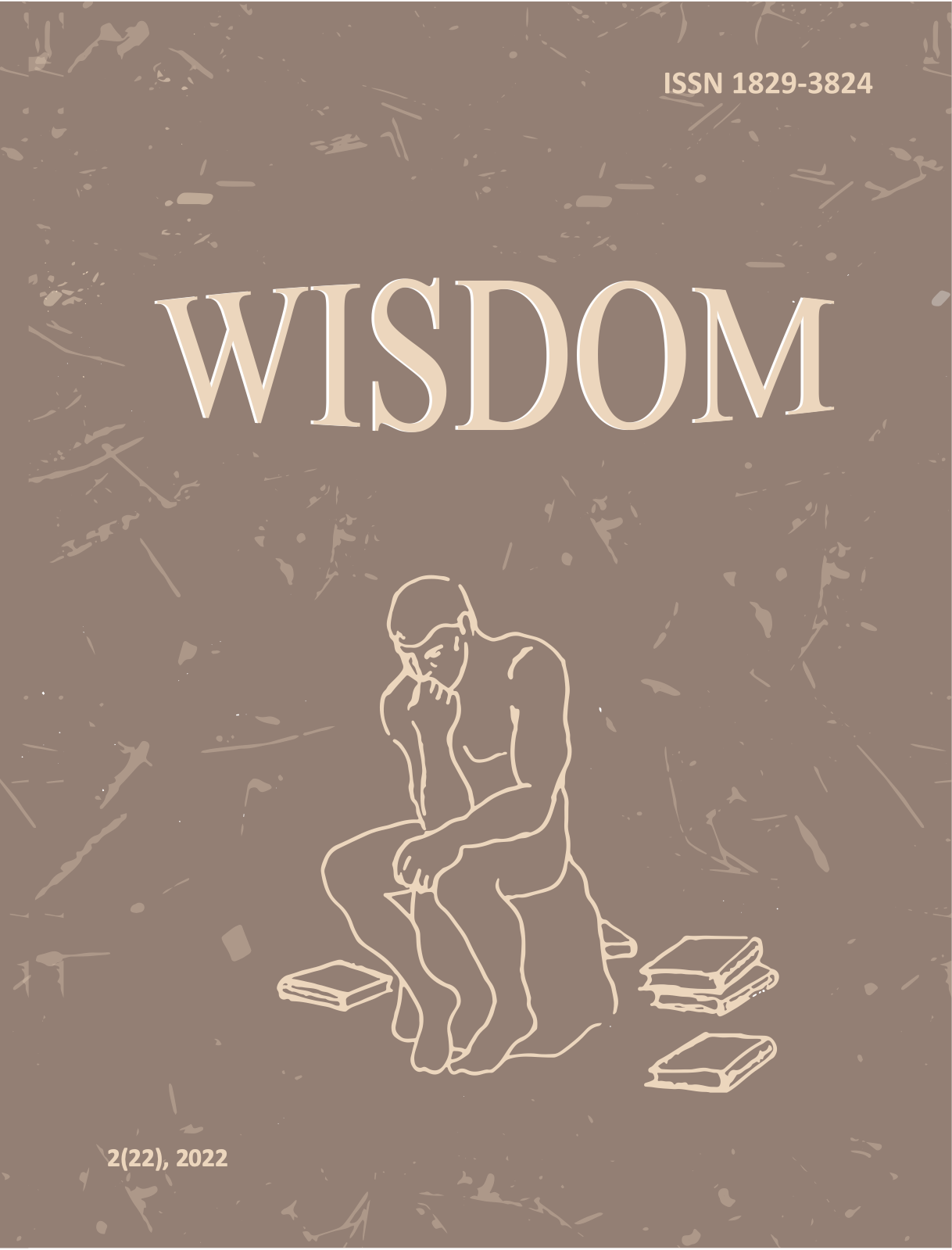 Downloads
How to Cite
NIKOLENKO, K., DOVZHUK, V., VOROPAYEVA, T., BOIKO, S., & HONCHARUK, O. (2022). Educational Activities in the Context of the Realities of the Information Society: Problems, Pro-spects. WISDOM, 22(2), 138–151. https://doi.org/10.24234/wisdom.v22i2.755
License
Copyright (c) 2022 scientific journal WISDOM
This work is licensed under a Creative Commons Attribution-NoDerivatives 4.0 International License.
Creative Commons Attribution-Non-Commercial (CC BY-NC). CC BY-NC allows users to copy and distribute the article, provided this is not done for commercial purposes. The users may adapt – remix, transform, and build upon the material giving appropriate credit, providing a link to the license. The full details of the license are available at https://creativecommons.org/licenses/by-nc/4.0/.