Money Phenomenon as a Value-Based Self-Identification: Speech Semantics, Communicative Culture, Philosophical Meanings
Keywords:
money, monetary culture, philosophy of money, monetary relations, linguocultural identity, psycholinguistic meaning of the word, semantic-cognitive motivational structure
Abstract
The article deals with the value-based vector of psycho-philosophical understanding of the money phenomenon and its role in modern society.
Developing Georg Simmel's ideas, money is considered not only as a solely economic phenomenon but also as a social one. Money originates from the world's cultural development with the gradual formation of money culture as a space of economic and social interaction. The nature of the individual's economic activity, values, and life orientations are formed under the influence of the money culture of a particular historical period. Modern money culture is usually called a financial civilisation. The article examines the features of modern money culture and identifies its main features and problems.
The article analyses the issue of the constructive and destructive attitude of the individual to money via a description of the personality typology based on clinical observations and interpreted through the prism of psychoanalytic theory.
The study highlights the concept of money from the point of view of a socio-psychological approach. It also discusses the theoretical foundations of the influence money has on the decision-making process and human behaviour.
Downloads
Download data is not yet available.
References
*men- (1). (n.d.). In Online Etymology Dictionary. Retrieved from https://www.etymonline.com/word/*men-?ref=etymonline_crossreference#etymonline_v_52585
Abramova, S. B. (2009). Sotsiologicheskii podkhod k issledovaniiu deneg: osnovaniia i perspektivy (Sociological approach to studying money: Foundations and perspectives, in Russian). Izvestiia Uralskogo gosudarstvennogo universiteta (The Proceedings of Ural State University, in Russian), 4(70), 133-141.
Akhiezer, A. S. (1998). Rossiia: Kritika istoricheskogo opyta (Russia: The critique of historical experience, in Russian). (2nd ed.). (Vol. 2). Novosibirsk: Sibirskii khronograf.
Argyle, M., & Furnham, A. (1998). The psychology of money (1st ed.). Routledge. https://doi.org/10.4324/9781315812496
Black, J., Hashimzade, N., & Myles, G. D. (2013). Money. In A Dictionary of Economics. Oxford: Oxford University Press.
Forman, N. (1987). Mind over money: Curing your financial headaches with money sanity. Toronto, Ontario: Doubleda.
Garkusha, I. (2018). Osnovni typy stavlennia osobystosti do groshei (Main types of the personalityís attitude to money, in Ukrainian). Visnyk universytetu imeni Alfreda Nobelia. Pedagogika i psykhologiia (Alfred Nobel University Journal of Pedagogy and Psychology, in Ukrainian), 2(16), 40-45.
Goldberg, H., & Lewis, R. T. (1978). Money Madne$$: The psychology of saving, spending, loving, and hating money (1st ed.). New York: William Morrow & Company, Inc.
Jowett, A. B. T. (2022). Aristotleís Politics. New York: Carlton House.
Katsenelenbaum, Z. S. (1928). Uchenie o dengakh i kredite (A theory of money and credit, in Russian). Moscow: Ekonomicheskaia zhizn. Retrieved from https://drive.google.com/open?id=1GbvaLXnmoxew4oIg0JV4vrr672w6K7xW
Merrill, D. W., & Reid, R. H. (1981). Personal styles and effective performance: Make your style work for you. Chilton Book Company.
Money. (n.d.). In Online Etymology Dictionary. Retrieved from https://www.etymonline.com/search?q=money
Popova, Z. D., & Sternin, I. A. (2003). Ocherki po kognitivnoi lingvistike (Essays on cognitive linguistics, in Russian). Voronezh: Istoki.
Semenov, M. Yu. (2011). Dengi i liudi: Psikhologiia deneg v Rossii (Money and people: Psychology of money in Russia, in Russian). Kiev: Prostobuk.
Sillaste, G. G. (2004). Sotsialínye funktsii deneg v usloviiakh ekonomicheskikh reform (Social functions of money under conditions of economic reforms, in Russian). In Denezhnye reformy v Rossii: Istoriia i sovremennost. Sbornik statei (Monetary reforms in Russia: History and Modernity. Collection of essays, in Russian) (pp. 233-238). Moscow: Drevlekhranilishche.
Simkiv, M. V. (2015). Groshi iak sotsialno-psykhologichnyi fenomen (Money as a socio-psychological phenomenon, in Ukrainian). Young Scientist, 10(25), 191-194.
Simmel, G., Frisby, D., & Bottomore, T. (2004). The philosophy of money (3rd ed.). Routledge.
Sitaram, K. S., & Cogdell, R. T. (1976). Foundations of intercultural communication. Columbus: Charles E. Merrill Publishing Company.
Stefanova, N. O. (2020). Etnosemiometrychna parametryzatsiia aktsiokontseptosfer u brytanskii ta ukraiinskii lingvokulturakh (Ethnosemiometric parametrisation of axioconceptosphere in the British and Ukrainian linguocultures, in Ukrainian). (Doctoral Dissertation, National Pedagogical Dragomanov University, Ministry of Education and Science of Ukraine, Kyiv, Ukraine). https://npu.edu.ua/images/file/vidil_aspirant/dicer/D_26.053.26/Stefanova.pdf
Tang, T. L. P. (1992). The meaning of money revisited. Journal of Organizational Behavior, 13(2), 197-202. https://doi.org/10.1002/job.4030130209
Wernimont, P. F., & Fitzpatrick, S. (1972). The meaning of money. Journal of Applied Psychology, 56(3), 218-226. https://doi.org/10.1037/h0033107
Zarubina, N. N. (2011). Dengi kak sotsiokulturnyi fenomen (Money as a sociocultural phenomenon, in Russian). Moscow: Ankil.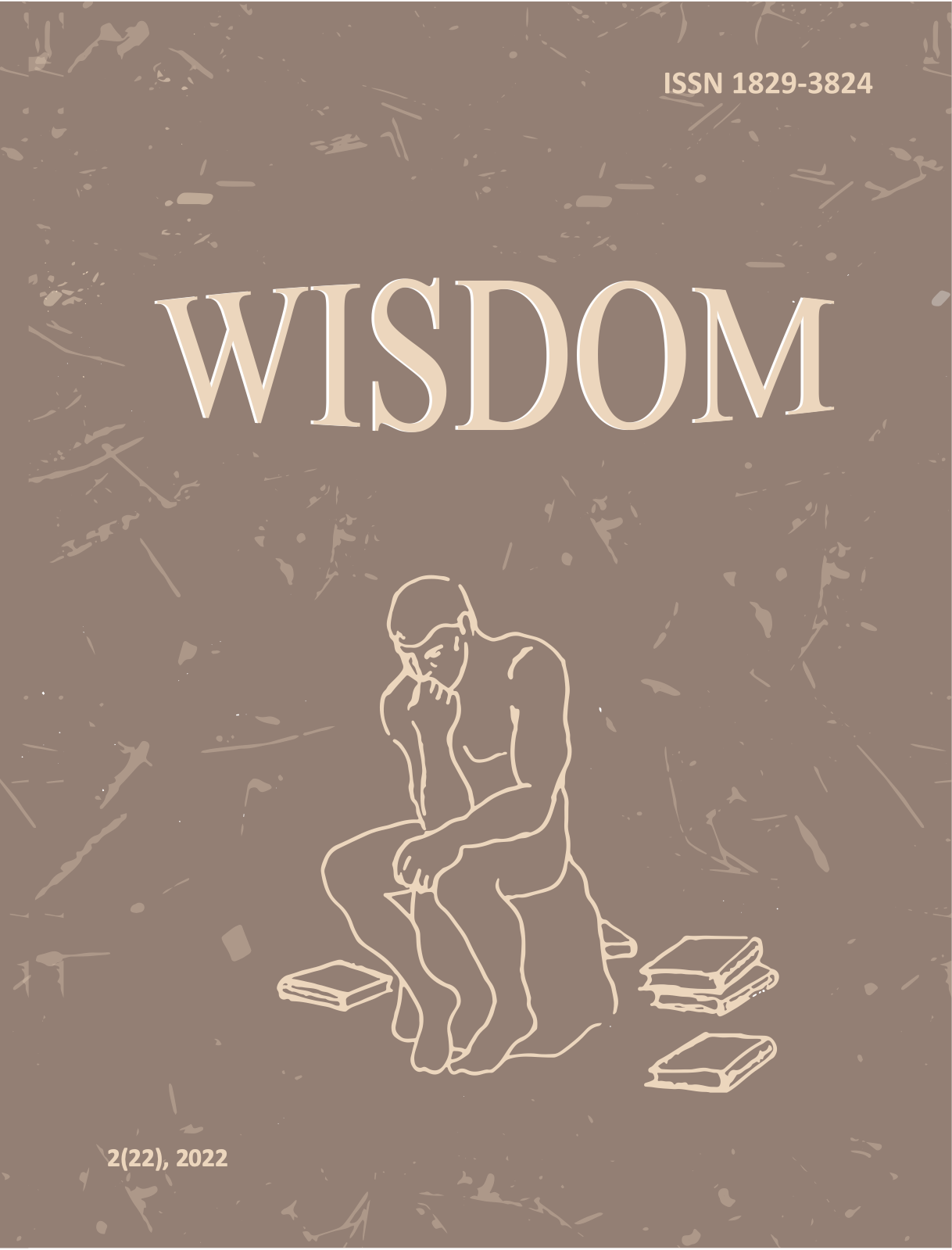 Downloads
How to Cite
STEFANOVA, N., KHRYPKO, S., STOLIARCHUK, O., ISHCHUK, A., SERHIEIENKOVA, O., & KOLINKO, M. (2022). Money Phenomenon as a Value-Based Self-Identification: Speech Semantics, Communicative Culture, Philosophical Meanings. WISDOM, 22(2), 208–221. https://doi.org/10.24234/wisdom.v22i2.737
License
Copyright (c) 2022 scientific journal WISDOM
This work is licensed under a Creative Commons Attribution-NoDerivatives 4.0 International License.
Creative Commons Attribution-Non-Commercial (CC BY-NC). CC BY-NC allows users to copy and distribute the article, provided this is not done for commercial purposes. The users may adapt – remix, transform, and build upon the material giving appropriate credit, and providing a link to the license. The full details of the license are available at https://creativecommons.org/licenses/by-nc/4.0/.